Does your list of favorite things in life include hiking and reading outdoor books? Interested in meeting others who enjoy the same? Each month we will choose an outdoor book to read and discuss while hitting the trails near Seattle. Sign up below for the monthly newsletter to receive the latest book selection and meetup location. The club is open to anyone and everyone. We will try to choose trails that are within everyone's ability levels as specified when you sign up. Babies, kids and well-behaved dogs are all welcome, the more the merrier!
Don't live in Seattle? You can still sign up for the newsletter to receive the book selections and read along. After the meetup hike I will post a recap page here where you can share your thoughts and favorite parts of the book.
You can also join our group on facebook if you'd like!
Here are some of the books we've read recently:
The Little Book of Hygge: Danish Secrets to Happy Living by Meik Wiking
Why are Danes the happiest people in the world? The answer, says Meik Wiking, CEO of the Happiness Research Institute in Copenhagen, is Hygge. Loosely translated, Hygge—pronounced Hoo-ga—is a sense of comfort, togetherness, and well-being. "Hygge is about an atmosphere and an experience," Wiking explains. "It is about being with the people we love. A feeling of home. A feeling that we are safe."

The Little Book of Hygge introduces you to this cornerstone of Danish life, and offers advice and ideas on incorporating it into your own life, such as:

Get comfy. Take a break.
Be here now. Turn off the phones.
Turn down the lights. Bring out the candles.
Build relationships. Spend time with your tribe.
Give yourself a break from the demands of healthy living. Cake is most definitely Hygge.
Live life today, like there is no coffee tomorrow.
From picking the right lighting to organizing a Hygge get-together to dressing hygge, Wiking shows you how to experience more joy and contentment the Danish way.
The Big Burn by Timothy Egan
On the afternoon of August 20, 1910, a battering ram of wind moved through the drought-stricken national forests of Washington, Idaho, and Montana, whipping the hundreds of small blazes burning across the forest floor into a roaring inferno that jumped from treetop to ridge as it raged, destroying towns and timber in the blink of an eye. Forest rangers had assembled nearly ten thousand men  —  college boys, day workers, immigrants from mining camps  —  to fight the fire. But no living person had seen anything like those flames, and neither the rangers nor anyone else knew how to subdue them.
The Stranger in the Woods: The Extraordinary Story of the Last True Hermit by Michael Finkel
In 1986, a shy and intelligent twenty-year-old named Christopher Knight left his home in Massachusetts, drove to Maine, and disappeared into the forest. He would not have a conversation with another human being until nearly three decades later, when he was arrested for stealing food. Living in a tent even through brutal winters, he had survived by his wits and courage, developing ingenious ways to store edibles and water, and to avoid freezing to death. He broke into nearby cottages for food, clothing, reading material, and other provisions, taking only what he needed but terrifying a community never able to solve the mysterious burglaries. Based on extensive interviews with Knight himself, this is a vividly detailed account of his secluded life--why did he leave? what did he learn?--as well as the challenges he has faced since returning to the world. It is a gripping story of survival that asks fundamental questions about solitude, community, and what makes a good life, and a deeply moving portrait of a man who was determined to live his own way, and succeeded.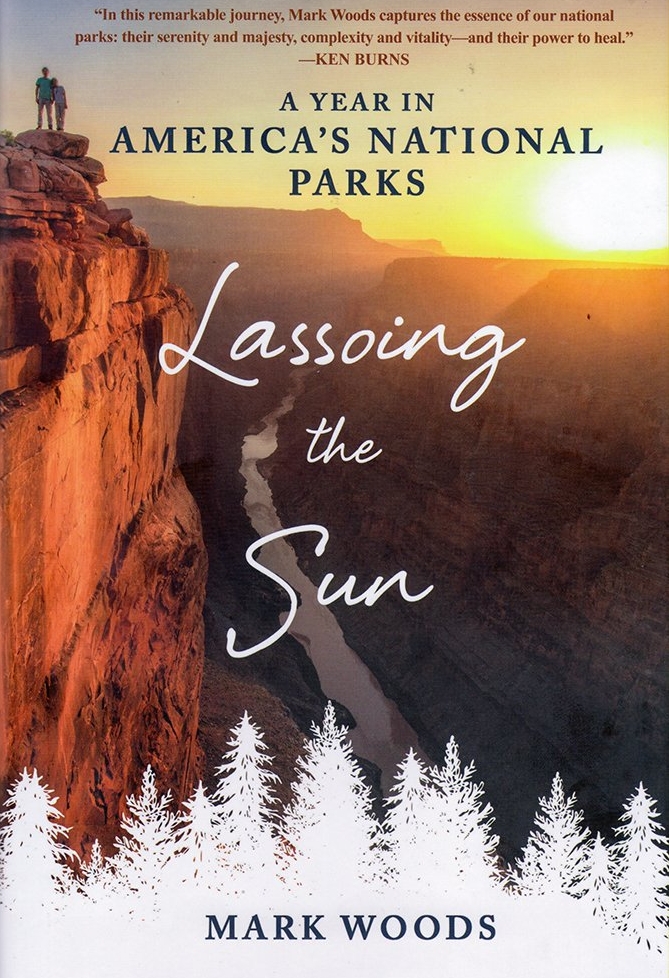 Lassoing The Sun: A Year in National Parks by Mark Woods
Many childhood summers, Mark Woods piled into a station wagon with his parents and two sisters and headed to America's national parks. Mark's most vivid childhood memories are set against a backdrop of mountains, woods, and fireflies in places like Redwood, Yosemite, and Grand Canyon national parks.

On the eve of turning fifty and a little burned-out, Mark decided to reconnect with the great outdoors. He'd spend a year visiting the national parks. He planned to take his mother to a park she'd not yet visited and to re-create his childhood trips with his wife and their iPad-generation daughter.

But then the unthinkable happened: his mother was diagnosed with cancer, given just months to live. Mark had initially intended to write a book about the future of the national parks, but Lassoing the Sun grew into something more: a book about family, the parks, the legacies we inherit and the ones we leave behind. (From Goodreads)
The Nature Fix by Florence Williams
For centuries, poets and philosophers extolled the benefits of a walk in the woods: Beethoven drew inspiration from rocks and trees; Wordsworth composed while tromping over the heath; and Nikola Tesla conceived the electric motor while visiting a park. Intrigued by our storied renewal in the natural world, Florence Williams set out to uncover the science behind nature's positive effects on the brain.

In this informative and entertaining account, Williams investigates cutting-edge research as she travels to fragrant cypress forests in Korea to meet the rangers who administer "forest healing programs," to the green hills of Scotland and its "ecotherapeutic" approach to caring for the mentally ill, to a river trip in Idaho with Iraqi vets suffering from PTSD, to the West Virginia mountains where she discovers how being outside helps children with ADHD. The Nature Fix demonstrates that our connection to nature is much more important to our cognition than we think and that even small amounts of exposure to the living world can improve our creativity and enhance our mood. In prose that is incisive, witty, and urgent, Williams shows how time in nature is not a luxury but is in fact essential to our humanity. As our modern lives shift dramatically indoors, these ideas—and the answers they yield—are more urgent than ever. (From Goodreads)
Our Endless Numbered Days by Claire Fuller
Peggy Hillcoat is eight years old when her survivalist father, James, takes her from their home in London to a remote hut in the woods and tells her that the rest of the world has been destroyed. Deep in the wilderness, Peggy and James make a life for themselves. They repair the hut, bathe in water from the river, hunt and gather food in the summers and almost starve in the harsh winters. They mark their days only by the sun and the seasons. When Peggy finds a pair of boots in the forest and begins a search for their owner, she unwittingly begins to unravel the series of events that brought her to the woods and, in doing so, discovers the strength she needs to go back to the home and mother she thought she'd lost. After Peggy's return to civilization, her mother learns the truth of her escape, of what happened to James on the last night out in the woods, and of the secret that Peggy has carried with her ever since. (From Goodreads)
A Tale For the Time Being by Ruth Ozeki
In Tokyo, sixteen-year-old Nao has decided there's only one escape from her aching loneliness and her classmates' bullying, but before she ends it all, Nao plans to document the life of her great-grandmother, a Buddhist nun who's lived more than a century. A diary is Nao's only solace—and will touch lives in a ways she can scarcely imagine. Across the Pacific, we meet Ruth, a novelist living on a remote island who discovers a collection of artifacts washed ashore in a Hello Kitty lunchbox—possibly debris from the devastating 2011 tsunami. As the mystery of its contents unfolds, Ruth is pulled into the past, into Nao's drama and her unknown fate, and forward into her own future. Full of Ozeki's signature humor and deeply engaged with the relationship between writer and reader, past and present, fact and fiction, quantum physics, history, and myth, A Tale for the Time Being is a brilliantly inventive, beguiling story of our shared humanity and the search for home. (From Goodreads)
The Hidden Life of trees by peter wohlleben
In The Hidden Life of Trees, Peter Wohlleben shares his deep love of woods and forests and explains the amazing processes of life, death, and regeneration he has observed in the woodland and the amazing scientific processes behind the wonders of which we are blissfully unaware. Much like human families, tree parents live together with their children, communicate with them, and support them as they grow, sharing nutrients with those who are sick or struggling and creating an ecosystem that mitigates the impact of extremes of heat and cold for the whole group. As a result of such interactions, trees in a family or community are protected and can live to be very old. In contrast, solitary trees, like street kids, have a tough time of it and in most cases die much earlier than those in a group.

Drawing on groundbreaking new discoveries, Wohlleben presents the science behind the secret and previously unknown life of trees and their communication abilities; he describes how these discoveries have informed his own practices in the forest around him. As he says, a happy forest is a healthy forest, and he believes that eco-friendly practices not only are economically sustainable but also benefit the health of our planet and the mental and physical health of all who live on Earth. (From Goodreads)
 
The Ice Palace by Tarjei Vesaas
Commonly seen as the legendary Norwegian writer's masterpiece, this story tells the tale of Siss and Unn, two friends who have only spent one evening in each other's company. But so profound is this evening between them that when Unn inexplicably disappears, Siss's world is shattered. The Ice Palace is written in prose of a lyrical economy that ranks among the most memorable achievements of modern literature. (From Goodreads)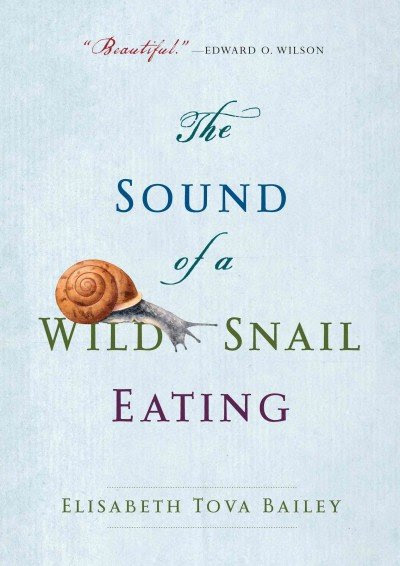 The Sound of a Wild Snail Eating by Elisabeth Tova Bailey
In a work that beautifully demonstrates the rewards of closely observing nature, Elisabeth Bailey shares an inspiring and intimate story of her uncommon encounter with a Neohelix albolabris —a common woodland snail.

While an illness keeps her bedridden, Bailey watches a wild snail that has taken up residence on her nightstand. As a result, she discovers the solace and sense of wonder that this mysterious creature brings and comes to a greater under standing of her own confined place in the world.

Intrigued by the snail's molluscan anatomy, cryptic defenses, clear decision making, hydraulic locomotion, and mysterious courtship activities, Bailey becomes an astute and amused observer, providing a candid and engaging look into the curious life of this underappreciated small animal.

Told with wit and grace, The Sound of a Wild Snail Eating is a remarkable journey of survival and resilience, showing us how a small part of the natural world illuminates our own human existence and provides an appreciation of what it means to be fully alive. (From Goodreads)